German Ambassador H.E. Bernhard Schlaghzeck visited College of Tourism and Hotel Management (COTHM) Lahore. The ambassador was given a comprehensive tour to the college and briefed about friendship festival held at COTHM. He praised students and the college administration for coming up with a unique idea of a friendship festival. "COTHM has made a name for itself in the field of hospitality. It is enhancing the friendship between the Pakistan and Germany", the ambassador said. He witnessed the models of different countries and appreciated students' efforts. He also tasted the food of different countries and enjoyed their cultural performances.
The ambassador also virtually addressed the students of 16 campuses of COTHM. Talking to the students of COTHM network, he said that hospitality and tourism have become the most sought after fields in the whole world and Germany also working vigorously  in these fields. He also said that there is a big demand of young professionals in Germany and we welcome the skillful youth whole heartedly.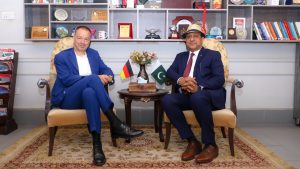 About COTHM, he said that Germany is already working closely with COTHM for the placement of skillful youth and we shall continue to boost this collaboration in future as well. COTHM CEO Ahmad Shafiq acknowledged German Ambassador H.E. Bernhard Schlaghzeck's efforts for the placement of Pakistani youth in Germany and said that COTHM's vision is to make Pakistani youth skillful enough to become the future leaders of Pakistan.
Featured
News